Jan/Dan
Q: So you're name is Jan, right?
A: That is correct.
Q: And the main character's name is Dan?
A: That is also correct.
Q: So, are you Dan?
A: No.
Q: But, he seems to act like you.
A: God created man in his image, did he not? As does an artist to his work.
Q: He resembles the main character from your old comic, Medi 2012, whose name was Jan.
A: Resembles? Sure. But as you can see from the image below, they are not the same. And another thing you may notice is a different last name.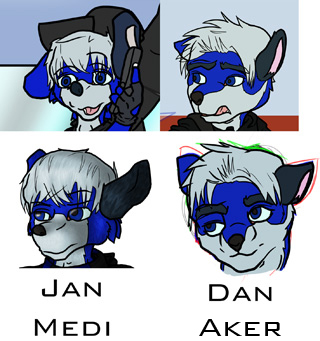 In fact, here's a full picture of the Jan character model: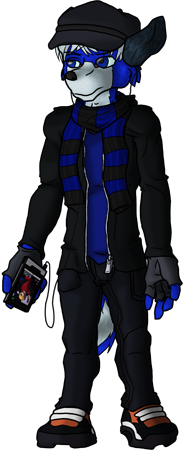 Q: You voiced Dan in Ch. 01-05-
A: Alright, enough of this nonsense talking to myself.
The name Dan became finalized back in January 2010, when toBlue was just concepted. It was meant to be a huge revamp to the failure called Medi 2012. However, instead of carrying over the original Jan model, I decided to start anew. From there, a new look was made from the old. Though, I purposely made the new one look similar. However, I also carried over most of his character traits.
There was one thing I didn't want to carry anymore though; the name. However, as the uncreative person I am, I changed only one letter. Why? Well there's a funny story behind that that'll be revealed later.
But I do have some explanation. Since I seperated the character from me, I'm now able to do stuff I wouldn't dare have done in Medi 2012. The character is not me, so I no longer have to worry about making sure things line up with my real life situations and traits. So he may have been based off me, but he's now his own person.
...The old Jan model is my own personal character though.